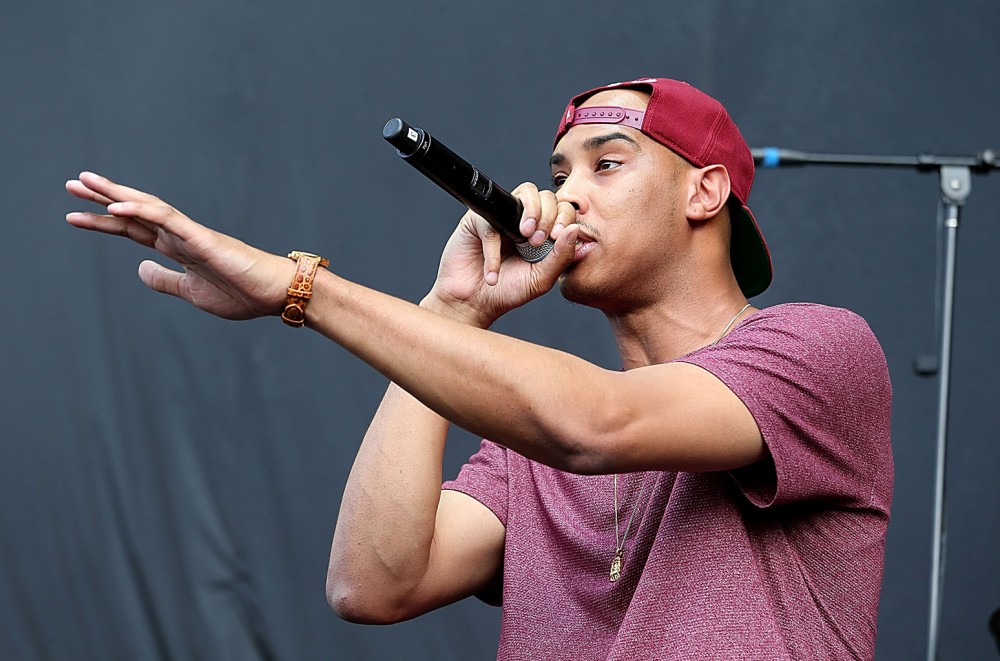 J. Cole and his Dreamville collective spent 10 days at Tree Sound Studios in Atlanta last year to record their collaborative album, Revenge of the Dreamers III. A star-studded list of artists and producers headed down south to partake in the recording sessions, and the album debuted at No. 1 on the Billboard 200 chart. The set received a Grammy nomination for best rap album, which shone a whole new light on the Dreamville camp.
For all the artists on the Dreamville roster besides Cole, it's their first time receiving a Grammy nomination. Omen, the longest-tenured member of Dreamville, has always envisioned himself winning a Grammy, but also felt conflicted due to his experiences in the music industry.
"When I was younger, I had a picture of a Grammy on my wall and I always thought how amazing it would be to win one," Omen recalls to Billboard. "But as time progresses, you see more things in the industry that you start to get jaded, like you don't need any of these people's validation."
The Chicago lyricist has seen a lot running alongside Cole and studying him at the start of his career. From touring on the road to figuring out label situations, Omen's journey has been eye-opening. Poor business decisions with his debut album, Elephant Eyes, like sample clearing issues and seeing first-hand Cole getting snubbed or losing a Grammy nomination, had the rapper re-evaluate himself and his career.
"I don't need their validation but I can't abandon that inner child in me that did want a Grammy at one point. If I didn't have these certain experiences I would still be looking at a Grammy, like, 'Damn that's dope,'" he says.
"If we don't win, or if I never win, it doesn't mean much to me. I really care about if I'm affecting people and having my work reach people," he says. "I don't think a Grammy is a necessary accomplishment to achieve that goal and reaching the people I want to reach. I think I can reach these kids without ever winning an award."
The Grammys have a long history of snubbing artists and their work. Ari Lennox's debut album, Shea Butter Baby, and the hit single "BMO," which Omen produced, were snubbed by the Recording Academy.
"I think there's a split energy about the Grammys in general, because it's, like, 'Yeah I'm super happy to be nominated and to be going.' But then I'm looking at Ari, like, 'I shouldn't even show up to this shit.' Like, look at how you did my sister," he continues.
On the day the nominations were announced, Omen thought for sure Lennox would get the nod.
"I'm thinking like I'm going to be Grammy-nominated as a producer," Omen remembers. "When I saw it, I'm not going to lie for like five seconds there was some disappointment. But then I thought, I'm still Grammy-nominated, and it doesn't matter how it happened. That's still an amazing thing but it's a weird feeling because we're such a family-orientated thing."
For years, people have felt the Grammys were rigged and that the Academy just uses the hip-hop culture to boost their ratings without giving the proper recognition. The rigging allegations made by ousted Grammy president/CEO Deborah Dugan have shaken up the awards and the validity of the nominations are being questioned even more.
"I don't doubt the process is rigged because it's very possible. I don't doubt that there's been corruption, but I will say to at least a little to their defense because I'm an actual Grammy board member, and this was the first year I actually voted and saw how it worked," Omen says when asked about the allegations. "There was like a moment of realization because I saw how the same people win or get nominated over and over."
Board members receive a ballot that contains various nominees in several categories and they make their selections based on who they think should take home the award. There were names on Omen's ballot that he never heard of, so picking a winner was not an easy task.
"I can see how there's no corruption and it's really just ignorance. But I can also see there's a corruption for sure," Omen says.
The Grammy nomination and success the Dreamville camp received is showing Omen it's possible for himself and the collective to be bigger than they are.
"I had no expectations of the album going platinum, getting a Grammy nomination or it being received how it was none of that," he says.
Omen didn't think anyone in his Dreamville family expected this recognition either since they've always been used to playing the underdog role next to other hip-hop collectives like Top Dawg Entertainment and Odd Future.
"Us getting nominated is a statement of like you can follow your heart and make the music you choose," Omen reveals. "I think the Grammys propelled our profile a lot but in general the way that album was rolled out we had already established our presence. The nomination is just icing on the cake."
---