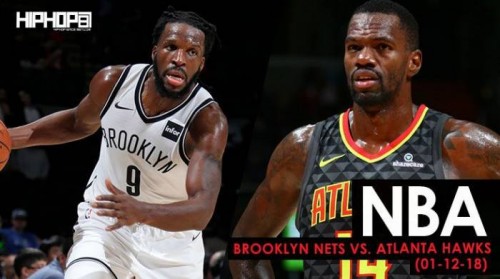 Atlanta Hawks fans witnessed a thrilling basketball game last night (Jan 12th) as the Hawks faced the Brooklyn Nets. Unfortunately, the ending results weren't in favor the Hawks.
Last night, the Hawks suffered a tough loss (110-105) at the hands the Brooklyn Nets largely because simple mistakes down the stretch. Hawks point guard Dennis Schroder had a career high 34 points against the Nets shooting (14-26) from the field with 7 assist. Hawks swingman Kent Bazemore followed that up with 16 points and 4 rebounds.
Since his return from injury, Hawks big man DeWayne Dedmon has been putting up numbers. Last night, Dedmon finished the game with 11 points and 9 rebounds.
For Brooklyn, the Nets were able to hang around and stay in the game late, and they capitalized f a few Atlanta mistakes to leave Philips Arena with the victory. Brooklyn Nets guard Spencer Dinwiddie flirted with a triple double on the night. Dinwiddie finished with 20 points, 10 assist and 9 rebounds. Nets big man Jahlil Okafor was effective as well. Okafor finished with 17 f the bench in 12 minutes play. Nets forward DeMarre Carroll finished with 13 points.
The Atlanta Hawks will look to bounce back on Monday as they return to action on Martin Luther King Jr. Day. It will be an afternoon game as the Hawks welcome the San Antonio Spurs at 3:00pm. Stay tuned to HHS1987.com. Follow @eldorado2452 on Twitter and Instagram for all your Atlanta Hawks, NBA and sports news.