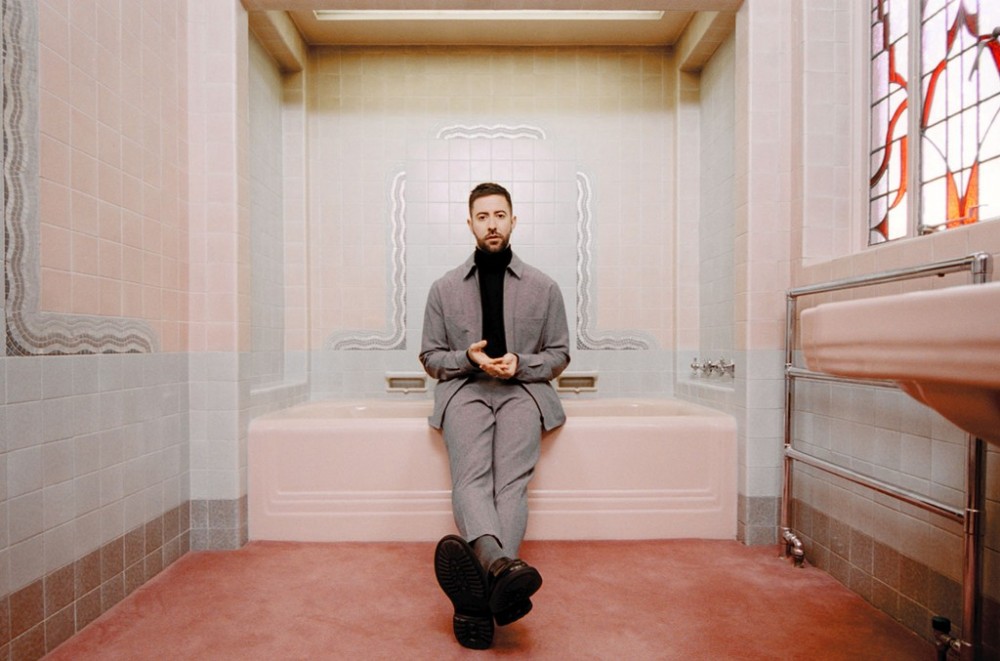 Bruno Major never knew how to answer the question of "what do you want to be when you grow up?" until he was 23 years old. "I started writing songs and it was like, 'Oh f—k, This is what I should've been doing this whole time,'" he says. "This is my gift and reason for being."
In the years since, he has co-written for Tori Kelly, SG Lewis and Keane frontman Tom Chaplin, all while making music of his own. Now, as the 31-year-old gears up to release his serene, relationship-inspired second album, To Let A Good Thing Die (out June 5 with distribution from AWAL), he's more confident in his craft than ever: "I wouldn't change a thing about [the album]."
Growing up in the self-described "idyllic but not the most culturally diverse" town of Northampton in England, Major started playing the guitar at seven years old, developing his technique by studying classical music. After a brief "shred metal phase" in his early teens, he returned to his roots and focused primarily on jazz, aspiring to become a session guitarist for artists like Elton John and Stevie Wonder.
In 2010, after graduating from Leeds College of Music, he moved to London and started gigging as a guitarist — but struggled to find his voice. It wasn't until Major had a transformative conversation, that spanned a 30-minute bus ride, with a homeless man the following year that he finally felt inspired to write his first song. "It was a moment of realization," he says. "Suddenly, I was writing all the time and ended up with 400 songs in the space of two years."
Soon enough, Major uploaded his first handful of originals to his Soundcloud account. His music caught the attention of labels, publishers and management companies, and in 2013, he signed a recording contract with Virgin Records and moved to Los Angeles. The partnership was short-lived, and the label dropped him the following year after the release of his four-song EP, Live. Dejected, Major returned to London. "To have worked so hard on something and then be told that it's not enough is hard," he says. "You don't have confidence in yourself to write a song [again] because you don't believe what you're doing is good."
It took two years for Major to get his mojo back. But once he started writing music for Shakespeare plays at a local theater company, "that unlocked me somehow," he recalls. He soon after attended a writing session — that he had originally planned to bail on —  that changed the course of his career.  Through the session, he met his now go-to collaborator, Phairo, and created a song called "Tapestry," which appears on To Let A Good Thing Die.
Within a year, Major independently released his debut full-length, A Song For Every Moon. The project, which was rolled out with one song per month over the course of a year, has since racked up over 200 million streams, according to Nielsen Music/MRC Data, and even landed Major an opening slot on Sam Smith's The Thrill Of It All tour.
After spending time on the road, Major rented a home in L.A. at the start of 2019 — and knocked out the majority of To Let A Good Thing Die within three months (he didn't officially finish the album until last Christmas). With a week to go until the album's release date, more than half the album is already available, including the FINNEAS co-written track "The Most Beautiful Thing" and the string-laden "Figment of My Mind." Says Major: "If you want people to engage with you, you have to keep putting music out all the time."
As an independent artist, Major admits to struggling during the pandemic; after initially postponing his spring headlining tour until the fall, he's since put it on hold until likely 2021, though no official dates have been announced. "It's been a bit of a trainwreck, to be honest," he says. "My main form of promotion is touring." In its absence, Major has placed an increased focus on social media and started communicating with fans directly through WhatsApp, sending them snippets of unreleased music.
Plus, he says the unexpected extra time at home has served as a mental break after two consecutive years of touring and recording nonstop. It has led to his most productive solo writing sessions in months, teasing that he already has two songs to release following his debut that he's excited about. "There aren't that many pieces of good news coming out at the moment," he says. "And I hope, in as selfless of a way as possible, that my music can bring some form of respite to people. So I'm just going to make more."