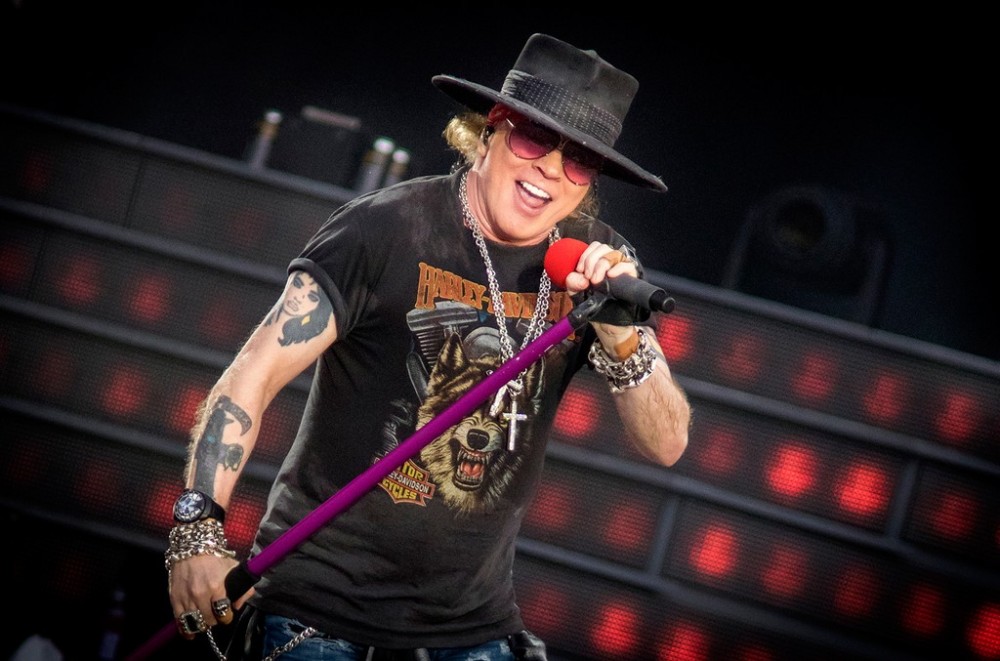 No matter how many times President Donald Trump jams out to Guns N' Roses, singer Axl Rose will continue to fire shots at the nation's leader.
Yesterday (May 5), Trump visited an Arizona-based Honeywell 3M factory manufacturing N-95 protective masks — while not wearing a face mask. He blasted an assortment of catchy tunes during his stay, including GNR's "Live and Let Die" despite the anti-Trump musician's formal request made last year to stop playing his music.
Billboard revisited all the times Rose purposefully pricked Trump since his 2016 presidential election.
November 2016 – Rose calls out Trump for nominating Jeff Sessions as Attorney General.
Shortly after the 2016 presidential election, Trump formally nominated Alabama Senator Jeff Sessions to be his Attorney General. Rose quickly voiced his opinion on the selection by excluding Trump from who he determines to be "good people" who "don't listen to, acknowledge, nominate or elect people like Senator Jeff Sessions."
November 2016 – He mocks the President after Vice President-elect Mike Pence gets "harassed" at Hamilton show.
When then-VP-elect Pence attended a showing of Hamilton, the Broadway musical's cast turned the stage into a political platform by urging him to "uphold our American values and to work on behalf of all of us" at curtain call. But Trump took to Twitter per usual and complained that the incident was harassment toward his right-hand man who deserved an apology. But GNR's lead vocalist squared up on the same social media platform, asking the Commander in Chief, "Do u ever stop whining?"
December 2016 – Guns N' Roses bring fans onstage to destroy a Trump piñata.
At a Mexico City concert, Guns N' Roses decided to get festive while bashing the President-elect at the time by encouraging fans to destroy an on-stage piñata resembling Trump. "Let's bring up some people and give them a f—ing stick," Rose said at the time when the crew assisted concertgoers onto the stage. "Express yourselves however you feel."
October 2017 – Rose serves Pence the White House bill for abruptly leaving Colts-49ers game.
When NFL players took a knee during the national anthem at the Colts-49ers game, the Vice President decided to step out of the stands "because @POTUS and I will not dignify any event that disrespects our soldiers, our Flag, or our National Anthem," he tweeted at the time. The GNR frontman took a stand and sarcastically thanked the White House for "the $200K Colts game PR stunt," referring to CNN's estimated airfare price for Pence's weekend excursion on taxpayers' dollar.
January 2018 – He defines the White House as "the current US gold standard of what can be considered disgraceful."
After former White House press secretary Sarah Huckabee Sanders dodged reporters' questions about Trump's mental state by hurling insults at them such as calling them "disgraceful," Rose decided to turn her words inside out. "The WH is the current US gold standard of what can be considered disgraceful," he tweeted in his rant. "Along with several other condescending adjectives the current WH has no room to call virtually anyone disgraceful."
February 2018 – Rose takes jabs at Ivanka Trump and her husband Jared Kushner. 
After President Trump faced several accusations of inappropriate behavior from multiple women, his daughter and senior advisor Ivanka Trump decided to set the record straight. "I think it's a pretty inappropriate question to ask a daughter if she believes the accusers of her father when he's affirmatively stated there's no truth to it," she responded in an NBC News interview. But Rose labeled her appointment to the White House as "inappropriate." He later blasted her husband and Trump's other senior advisor Jared Kushner.
September 2018 – The GNR frontman compares Trump's assessment of Sessions to his own assessment of Trump. 
Trump swung at his former Attorney General with an obliterating remark during an interview with The Hill after Sessions recused himself from the Russia investigation. "I don't have an attorney general. It's very sad," Trump said. And guess who swung right back? Rose.
October 2018 – Kanye West meets with Trump, which Rose dismisses as a "joke" and "attention-seeking nonsense."
Avid Trump supporter Kanye West secured a meeting at the White House to discuss a range of random topics, from the Chicago rapper's wearing the red "Make America Great Again" hat to reducing the crime rate in the Southside of his home state. Rose later voiced how he wasn't a fan of either.
November 2018 – Rose slams Trump's campaign for using GNR songs without permission.
Trump likes walking out to GNR hits such as "Sweet Child O' Mine" during his rallies, but the band's frontman proclaimed the gig was up before the 2018 midterm elections, as did Rihanna. He described the President as an individual "that will say n' do anything w/no regard for truth, ethics, morals or empathy of any kind." "Just so ya know… GNR like a lot of artists opposed to the unauthorized use of their music at political events has formally requested r music not b used at Trump rallies or Trump associated events," he started writing as part of a lengthy Twitter thread. "Unfortunately the Trump campaign is using loopholes in the various venues' blanket performance licenses which were not intended for such craven political purposes, without the songwriters' consent. Can u say 'sh–bags?!'"
November 2018 – Rose fires back at Trump for blaming the California wildfires on others.
The President neglected climate change and accused poor forest management as the cause of the California wildfires while even threatening to cut federal financial relief. But Rose swooped in to point fingers at Trump as the "root" of the problem. "Um…actually…it's a lack of federal funding that's at the 'root' of the purported forest mismanagement," the GNR vocalist shot back. "Only a demented n' truly pathetic individual would twist that around n' use a tragedy to once again misrepresent facts for attempted public/political gain at other's expense."
February 2020 – He tips his hat to Trump in his first tweet of the year 
Rose sprung back up on Twitter with a subtweet intended for none other than the President. The 58-year-old rockstar posted a picture of a man wearing a blue "MAKE THE WHITE HOUSE GREAT AGAIN" hat, hinting at the potential seat change during the 2020 presidential election.